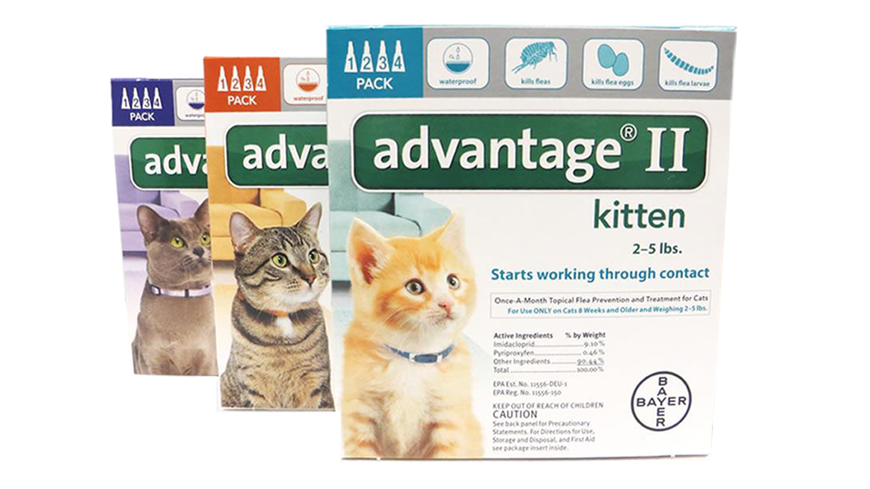 Summary
Advantage II for cats is available in three products, each corresponding to specific weight ranges. There is one for kittens (2 to 5 lbs), small cats (5 to 9 lbs), and large cats (over 9 lbs). The dosage is higher for heavier cats. See the dosage by weight chart below. The active ingredient concentration is the same in all three products. View the full product label for application information.
Details
Advantage II for Cats
Dosage by Weight
| | |
| --- | --- |
| Cat Weight | Monthly Dose |
| 2 to 5 lbs | 0.23 mL (0.0078 fl oz) |
| 5 to 9 lbs | 0.4 mL (0.014 fl oz) |
| over 9 lbs | 0.8 mL (0.027 fl oz) |
Advantage II for Cats
Product Information Chart
Cat Age
8 weeks or older
Cat Weight
see chart above
Monthly Dose
see chart above
Kills
adults, eggs & larvae
Dose Duration
30 days
Ingredients
9.1% imidacloprid
0.46% pyriproxyfen
90.44% other ingredients
Product Label
view
MSDS
view
Shop
Amazon
Apply the Correct Dosage
Advantage II flea drops are specifically formulated and tested for cats of certain weights. The full dose of the correct product needs to be administered on a monthly basis. The product can fail if the manufacturer's instructions aren't followed. It's not uncommon for owners to under-dose their pets as a result of splitting treatments between animals. Toxicity concerns can also result in under-dosing.
Re-dosing Early
Do not apply more than one tube per treatment. Under normal conditions, one dose will last a month. However, in severe infestations, it may be necessary to retreat the cat earlier in order to establish control. For kittens (2-5 lbs.), retreatment shouldn't be done more often than once every 14 days. For small cats (5-9 lbs.) and large cats (over 9 lbs.), do not retreat more than once every 7 days. Once flea control is attained, the monthly re-treatment schedule should be adhered to.
References
1543244
{6WCZDJ3I};{RCKS2P2F};{FQK2W4P4};{2EHUIWES};{44QVDVF7}
nature
default
ASC
no
14126