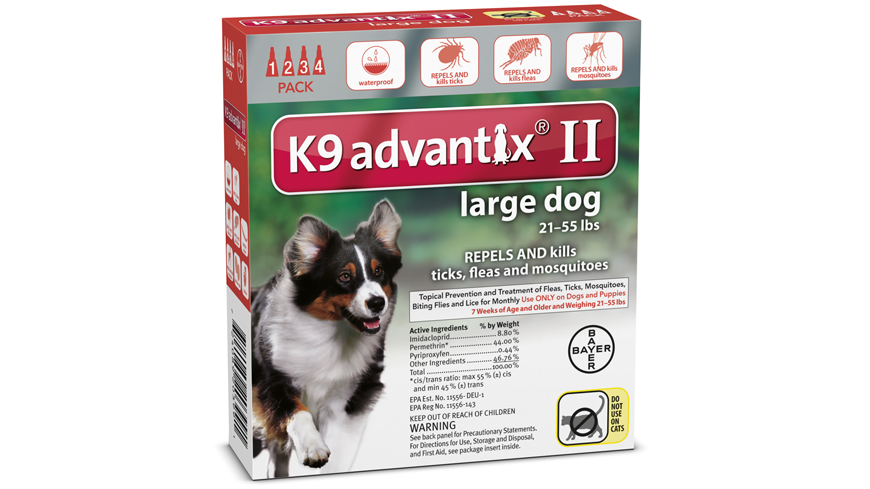 Summary
K9 Advantix II is available in four products, each corresponding to specific weight ranges of dogs and puppies. There's one for small dogs (4 to 10 lbs), medium dogs (11 to 20 lbs), large dogs (21 to 55 lbs) and extra large dogs (over 55 lbs). The applied dose is higher for dogs which weigh more. See the dosage by weight chart below. The formulation of active ingredients is identical in all four products. View the full product label for directions and more information.
Details
K9 Advantix II
Dosage by Weight
| | |
| --- | --- |
| Dog Weight | Monthly Dose |
| 4 to 10 lbs | 0.4 mL (0.014 fl oz) |
| 11 to 20 lbs | 1.0 mL (0.034 fl oz) |
| 21 to 55 lbs | 2.5 mL (0.084 fl oz) |
| over 55 lbs | 4.0 mL (0.135 fl oz) |
K9 Advantix II
Product Information Chart
Dog Age
7 weeks or older
Dog Weight
see chart above
Monthly Dose
see chart above
Kills
adults, eggs & larvae
Dose Duration
30 days
Ingredients
8.80% imidacloprid
44.00% permethrin
0.44% pyriproxyfen
46.76% other ingredients
Product Label
view
MSDS
view
Shop
Amazon
Apply the Correct Dosage
K9 Advantix II products are specifically formulated and tested for efficacy and safety on dogs of specific weight ranges. The full dose of the correct product needs to be administered on a monthly basis. Control measures may fail if the manufacturer's instructions on the label aren't adhered to closely. Don't under-dose or over-dose pets. Under-dosing sometimes occurs when pet owners split treatments between different dogs. Under-dosing can also arise from toxicity fears.
Re-dosing Early
Don't apply more than one tube per treatment, even for larger dogs. Under normal circumstances, one dose will last 4 weeks. However, in severe flea infestations, re-treatment is allowable earlier in order to establish control. In these situations, don't retreat more often than once every 7 days. Once flea control is attained, return to a monthly re-treatment schedule.
References
1543244
{6WCZDJ3I};{RCKS2P2F};{FQK2W4P4};{2EHUIWES};{44QVDVF7}
nature
default
ASC
no
19599