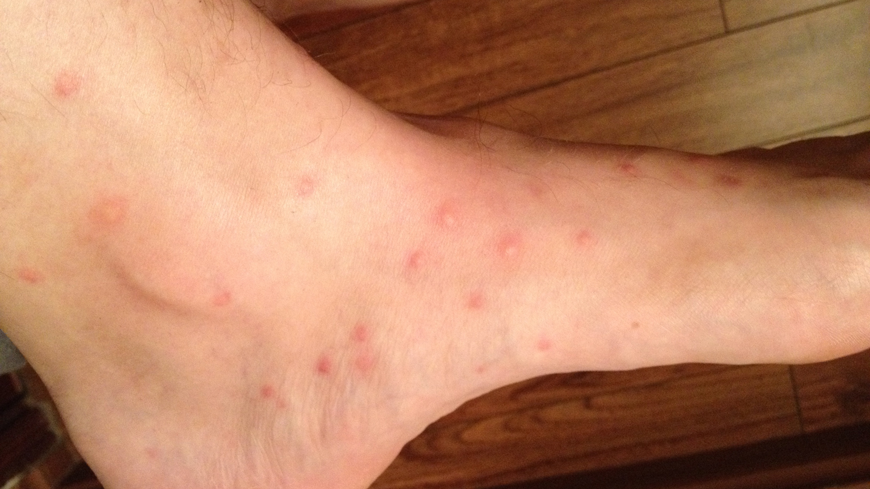 Img 1 Cat flea bites on a person's ankles and feet.
Summary
Fleas bite humans on their feet, ankles, calves, and lower legs. Bites rarely occur above the knees unless a person is sitting or laying on the ground.
Details
Fleas Bites & Humans
Fleas occasionally bite people living in the same habitat as an infested animal. Bites on humans are incidental, occurring when the primary host, a cat or dog, is unavailable. In homes, fleas develop in carpeting. After exiting their cocoons, new adults may bite people before finding their preferred host.
Where Fleas Bite Humans
Common: Ankles and Feet
Fleas can take a blood meal anywhere on the human body. However, cat fleas only jump to an average height of 5.2 inches (7.9 inches max). This is well below the knee of a human Img 2. Once on human skin, fleas feed promptly without much movement or wandering. As a result, flea bites on humans typically occur on the feet, ankles, calves, and lower legs.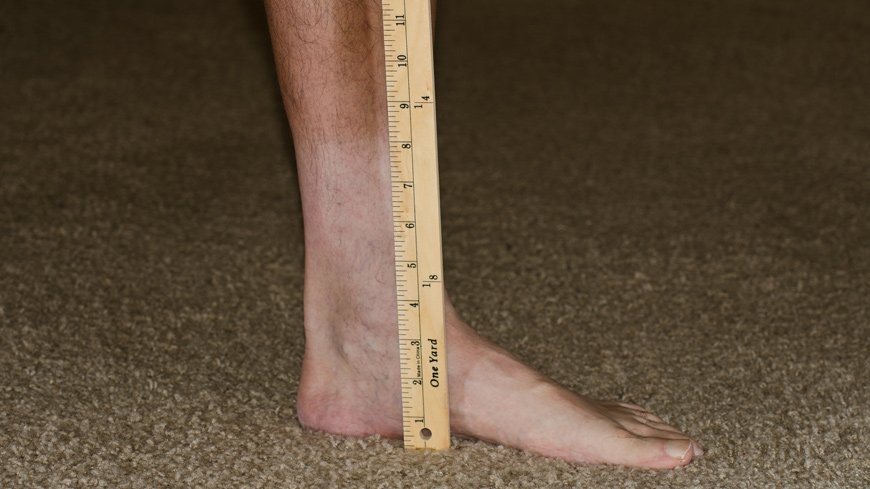 Img 2 Cat fleas can jump up to 8 inches in the air.
Fleas can't bite through clothes. They'll move beneath clothing, where they can remain hidden while feeding on exposed skin. Wearing socks and pants can help deter bites, but fleas often have access to exposed skin above the sock line. Tucking the pant's legs into the socks blocks access to skin and stops bites Img 3.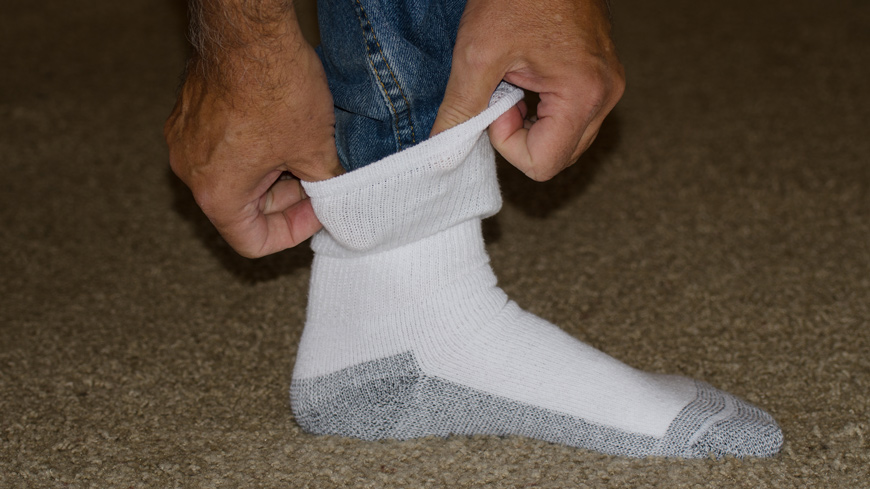 Img 3 Flea bites can't bite through clothes. Pants can be tucked into socks to stop bites.
Uncommon: Above the Knees
In normal circumstances, it's unlikely for fleas to reach a person's head, waist, pubic area, or even upper legs. These areas are simply too far from the ground. However, bites sometimes do occur higher up on the body. For example, if a person sits on the floor, then fleas will have easy access to the upper legs and waist. Bites may also occur on the wrists.
Rare: Head
Flea bites on the neck may occur in severe infestations. However, it's very rare for fleas to bite a person's scalp or face. Sleeping on the floor, or sharing a bed with an infested pet, can result in bites near the head.
Fleas Leave After Feeding
Cat fleas permanently remain on dogs and cats after jumping on them. However, when fleas bite people, they'll feed and then leave. On man, their only purpose is to consume a blood meal. They'll often bite two to three times before going.
Sometimes, if they're disturbed while feeding, fleas will hide in clothes for short periods of time. If they can't find a way to leave, they may remain within the seams of clothing for a couple days, periodically feeding. Generally though, humans are poor hosts for fleas because we lack body hair.
References
1543244
{EFWF6MT6};{FWU8GQJZ};{WJIVEV5E};{RPV5UXG4};{R957V74K};{MCG5VBIQ};{68BPJABW};{BJC6U5PW};{5B8BMAGU};{5HCW7Z6I};{XXMJXKAV};{Q9R4DCTD};{R957V74K};{EFWF6MT6};{FWU8GQJZ};{WJIVEV5E};{RPV5UXG4};{5HCW7Z6I};{FWU8GQJZ};{R957V74K};{KCGCTJXV};{FB6R5V6P};{FWU8GQJZ};{FB6R5V6P};{R957V74K};{FWU8GQJZ};{R957V74K};{IX8CPVRF};{5HCW7Z6I};{AZBHUW76};{5HCW7Z6I};{5B8BMAGU};{9VG6AN4W};{UBGC7NGU};{MCG5VBIQ};{5HCW7Z6I};{WJIVEV5E};{5HCW7Z6I};{R957V74K}
nature
default
ASC
no
13620