Summary
Vacuuming is an important part of flea control. 95-99% of infestations are eggs, larvae, and pupae. The immature fleas live in the environment, most often carpeting. Vacuuming removes some of all these life stages, as well as larval food. Vacuuming also triggers cocooned adults to emerge, which otherwise may remain quiescent for up to 5 months.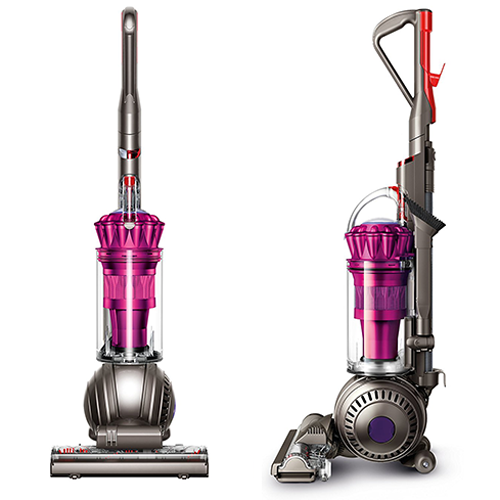 Dyson Animal Ball
The Animal Ball is our pick for the best vacuum to remove fleas and related debris.
Vacuum cleaner features to consider include: suction power, maneuverability, hose attachments, and the ability to remove pet hair and debris from various floor types. With this in mind, the best vacuum cleaner for fleas is the Dyson Animal Ball Complete Upright. For those on a budget, the Shark Navigator Lift-Away and the Hoover Pet Rewind are also good choices.
Comparison
Product Name
Dyson
Animal Upright
Shark
Navigator Lift-Away
Bissell
Pet Hair Eraser
Hoover
Pet Rewind
Price
$580
$200
$30
$120
Style
Upright
Upright
Lift-Away
Handheld
Upright
Weight
17.1 lbs
13.7 lbs
4 lbs
17.8 lbs
Hose Length
15.4 ft
8.5 ft
n/a
8 ft
Path Width
13.3 in
9.5 in
5 in
13.5 in
Pet Hair
Yes
Yes
Yes
Yes
Bin Capacity
.55 gal
.55 gal
n/a
n/a
Base Plate
Self-Adjusting
Fixed
n/a
Adjustable
Beater Bar
Yes
Yes
n/a
Yes
Attachments
Turbine Tool
Stiff Brush
Soft Brush
Multi-A Brush
Combo Tool
Stair Tool
Dust Brush
Crevice Tool
Pet Tool
Hardfloor Tool
Rubber Nozzle
Hard Nozzle
Pet Floor
Pet Upholstery
12-Inch Wand
Dust Brush
Crevice Tool
Warranty
5 years
1 year
1 year
2 years
Container
Bagless
Bagless
Bagless
Bagless
Power
35′ Cord
30′ Cord
16′ Cord
25′ Cord
FleaScore
Reviews
Prices are based on Amazon.com at time of publishing.
FleaScores are based off of product details (price, size, active ingredients, etc), as well as reviews aggregated from 3rd party sources.
Details
How Vacuuming Helps Control Fleas
Vacuuming is an important part of any flea control program. It accelerates the eradication process and reduces the need to excessively apply chemicals.
Removes Fleas
Flea populations consist of 50-57% eggs, 34-35% larvae, 8-10% pupae, and 1-5% adults. Adult fleas live on their host and lay eggs there. The non-sticky eggs fall off within a few hours and accumulate in rooms where pets frequently rest. In homes, 83% of immature fleas live within carpets.
Vacuuming carpets removes 32-90% of eggs, 15-50% of larvae, up to 63.8% of pupae, and up to 95% of emerged adults. Efficacy is lower in high density carpets.
Removes Larval Food
Flea larvae require both eggs and flea feces in their diet. If larvae can't find these foods, they'll die within 3 days of hatching. Vacuuming removes some of the larval food from carpets.
Removes Pet Hair & Debris
Flea larvae were once thought to consume pet hair and host-related debris. This has been disproven. However, organic debris does benefit larvae by keeping them hidden and protected in their habitat. Vacuums can remove hair and detritus from carpets to make it less habitable for fleas.
Triggers Cocoon Emergence
Pre-emerged adults are a big issue with flea control. After maturing, adult fleas can stay quiescent within their cocoons for up to 5 months. They're resistant to insecticides, because most reside deep within carpets where sprays can't penetrate.
The pre-emerged fleas rapidly wake up and exit their cocoons when they detect heat and physical pressure. These stimuli indicate that a host is resting on the cocoon. Vacuuming can simulate these host cues and force the adults to emerge.
Prevents Cocoon Formation
If their substrate is shaken, larvae sometimes pupate without cocoons (naked pupae). The pre-emerged state with extended longevity can only occur within a cocoon. In addition, without a sticky cocoon, pupae are easier to vacuum up. Beater-bar vacuums may agitate carpets enough to force naked pupae to develop.
Increases Spray Penetration
Vacuuming, prior to spraying the premises, raises the carpet's fibers so insecticides can penetrate further down into the matrix.
What to Look for in a Flea Vacuum
Beater Bar
Beater bars contain bristles which dig into the nap of carpets and lift up fibers. This helps remove debris from different depths. All of the vacuum removal studies with fleas were done with beater bar vacuums. In addition, the beater bar causes friction and heat, which are the cues that trigger cocoon emergence. And the beater bar agitates carpeting to cause naked pupae to develop.
Bag or Canister
The process of being vacuumed up kills 100% of pre-adult fleas and 95% of adults. The few surviving adults will be damaged beyond the point of acquiring a host. Further efforts to sanitize the vacuum's bag or canister are unnecessary. Thus, there's no preference between vacuum's with bags or bagless canisters.
Suction Power
The more powerful and higher quality of vacuum, the more effective it will be at removing fleas and related debris from the carpets. The trade-off is that vacuums with more suction power are usually more expensive.
Base Plate Height
The height of vacuum's base plate is important for gaining optimal suction. Ideally, the vacuum's base plate height should be adjustable, allowing it to be optimized for different floor types. While most fleas develop in carpets, they can also live on rugs, hardwood, tile, and linoleum.
Pet Hair
People dealing with fleas usually have pets. Since pet hair and debris creates a better habitat for larvae, it's best to use a vacuum designed for removing animal hair from the environment.
Maneuverability
Flea eggs fall anywhere the host wanders. Upon hatching, the larvae stay in the general vicinity, but will move away from light. As a result, they can end up in hard-to-reach locations, such as underneath furniture. A vacuum cleaner designed for maneuverability makes accessing these areas easier.
Hose Attachments
Fleas often develop in cracks of hardwood flooring, crevices around the baseboards, and other areas debris collects. And depending upon the host's habits, flea eggs may fall on sofas, other furniture, pet bedding, cat trees, and so on. Having a variety of hose attachments for hard-to-reach nooks and crannies will come in useful.
The Best Vacuum for Fleas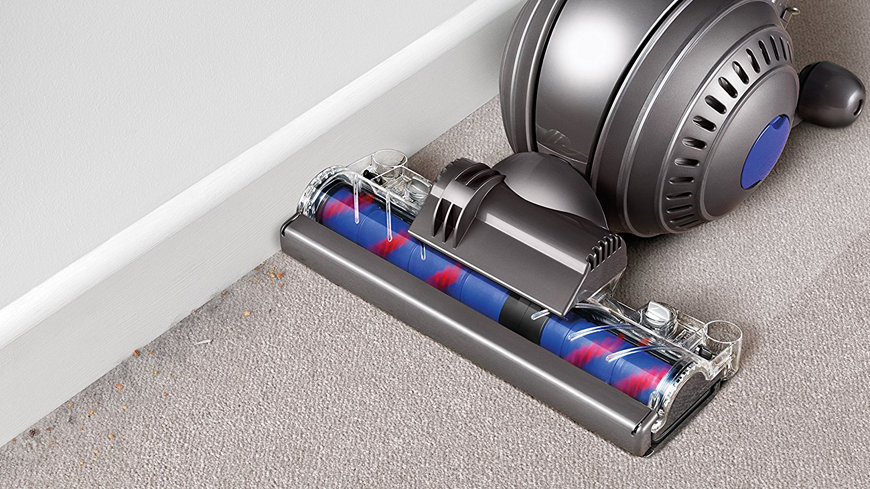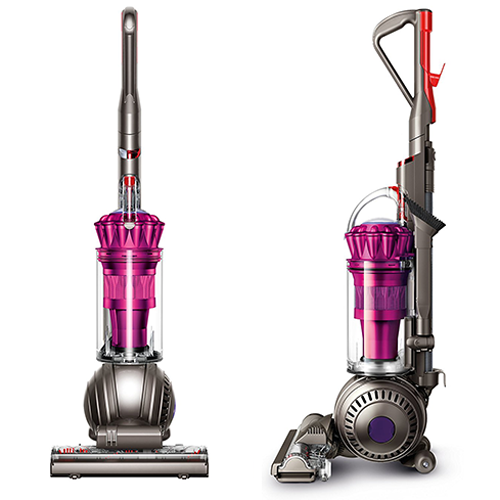 Dyson Ball Animal
Dyson Animal Ball is our pick for the best flea vacuum. Dyson vacuums are high quality, and this one is specially designed to remove pet hair from the environment.
Dyson vacuums are known for their high quality and superior suction power. Dyson's Radial Root Cyclone technology maximizes suction and captures more dirt than any other cyclone vacuums. The Dyson Ball Animal Complete Upright is an all-around vacuum, efficient at removing all kinds of dirt and debris. However, it's specifically made for pet owners, which makes it a good choice for flea control.
The Dyson Animal Ball is effective at removing fleas and related debris from all floor types. The vacuum's base plate automatically self-adjusts to give optimal contact to different floor surfaces. On hardwood, the plate lowers to create more of a seal which increases suction. On carpeting, the plate rises and the brush bar lowers. This creates more bristle penetration, allowing the vacuum to remove animal hair and dirt from different carpet depths.
Dyson's Ball technology enables excellent steering control and maneuverability. And the 35 foot long cord gives more freedom than most vacuums. The vacuum cleaner can easily be guided into hard-to-reach locations where fleas may be developing.
This vacuum features a longer than average hose, extending up to 15.4 feet. And the Complete package comes with a variety of useful attachments for flea control. The tools make it easy to clean sofas, pet bedding, cat trees, and other potential flea hot-spots. The most useful attachment is the Tangle-free Turbine tool, which can remove pet hair from confined spaces without tangling.
The main downside to Dyson vacuums is their cost. However, the cost is slightly offset by a 5 year warranty, which includes both parts and labor.
Good Vacuums for Fleas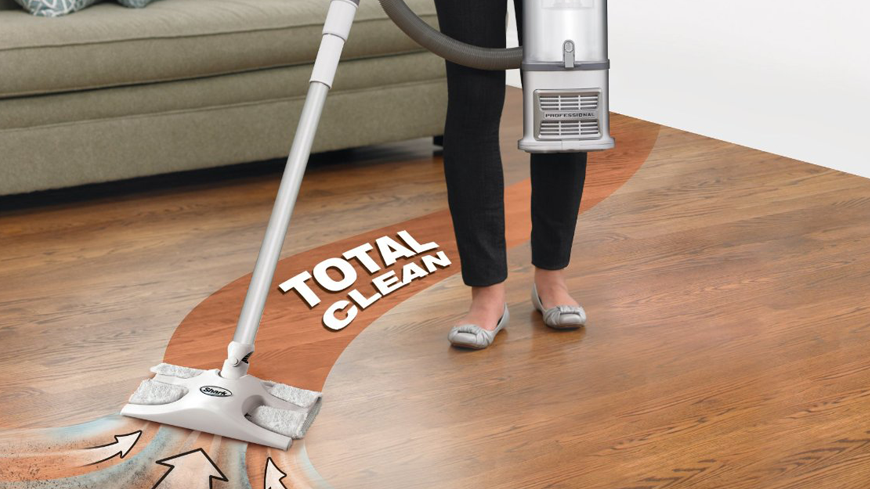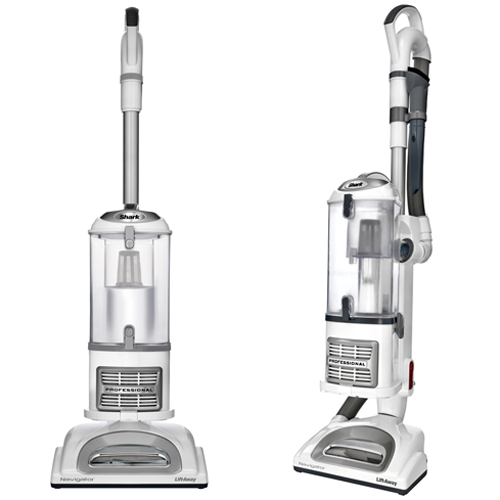 Shark Navigator Lift-Away
Navigator Lift-Away is another good vacuum for fleas. It's easy to maneuver with the lift-way functionality, and has multiple attachments for removing pet hair from various floor types.
The Shark Navigator Lift-Away is another good choice for flea control. And it's a bit more affordable than Dyson. This vacuum cleaner is one of the best sellers on Amazon.com, and is consistently highly rated by it's owners. It features a hybrid style, functioning as both an upright and lift-away vacuum. The Navigator is powerful, light-weight, and easy to maneuver with swivel steering.
The base plate isn't adjustable and rests at a fixed distance from the ground. However, it sits at a height that's effective for multiple floor types, including standard carpets and hardwood floors. Based on reviews at Amazon.com, customers rarely have a problem with different floor surfaces. The Navigator can even roll across shag rugs if the brush bar is turned off.
The lift-away feature is handy for cleaning hard-to-reach areas where fleas could develop, areas most vacuums would have trouble accessing. In addition, removing the canister enables the vacuum to easily slide underneath pieces of furniture, such as coffee tables.
The lift-away canister is easy to carry, weighing only 8 pounds. Though the hose isn't extremely long, being able to carry the canister results in superior accessibility to areas with the hose attachments. It's easy to reach places off the ground where flea eggs may have fallen (e.g. sofas and cat trees).
The Navigator comes with a variety of hose attachments that are useful for flea control. The Pet Power Brush can remove animal hair from surfaces without hassle. The Dust-Away attachment with microfiber pads efficiently removes dust and debris from hard floors. This tool can eliminate flea eggs and larvae from homes with hardwood or tiled floors. The Crevice Tool can remove fleas and related debris from cracks in the flooring, and crevices around the room's perimeter.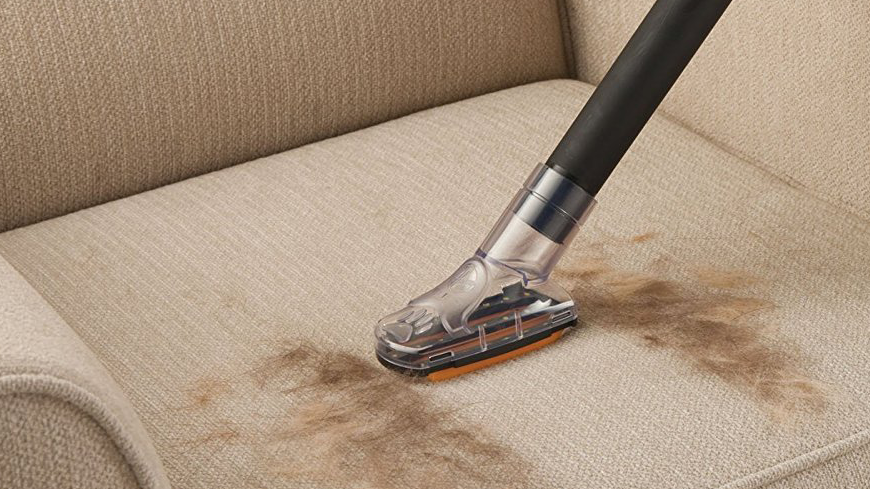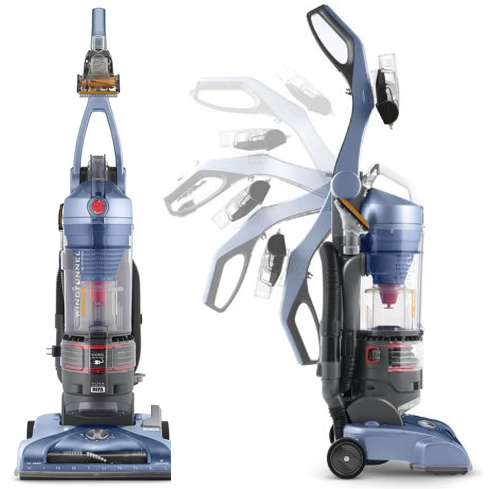 Hoover WindTunnel Pet Rewind
Hoover WindTunnel Pet Rewind is good choice for those on a budget. This vacuum cleaner's base plate is adjustable for different floors, and it has multiple pet hair attachments.
The T-Series WindTunnel Pet Rewind by Hoover is another popular vacuum cleaner for people with pets. This vacuum is affordable, light-weight, and folds for easy storage. The WindTunnel technology prevents loss of suction.
The vacuum's bottom plate can be manually adjusted to 5 different heights. This allows the Pet Rewind to form a better seal with the ground and increases suction. Thus, it can efficiently clean a variety of different floor types. This is useful feature for people dealing with a flea infestation in a home with both hardwood and carpeted areas.
The Hoover Pet Rewind comes with two pet hair hose attachments. The Air Powered Pet Hand Tool can easily remove animal hair from floors without tangling. And the Pet Upholstery Tool can be used on sofas and other upholstered furniture. Like most vacuums, it also comes with a Crevice Tool for cleaning the hard-to-reach cracks and crevices. These are areas where flea eggs and larvae may be developing.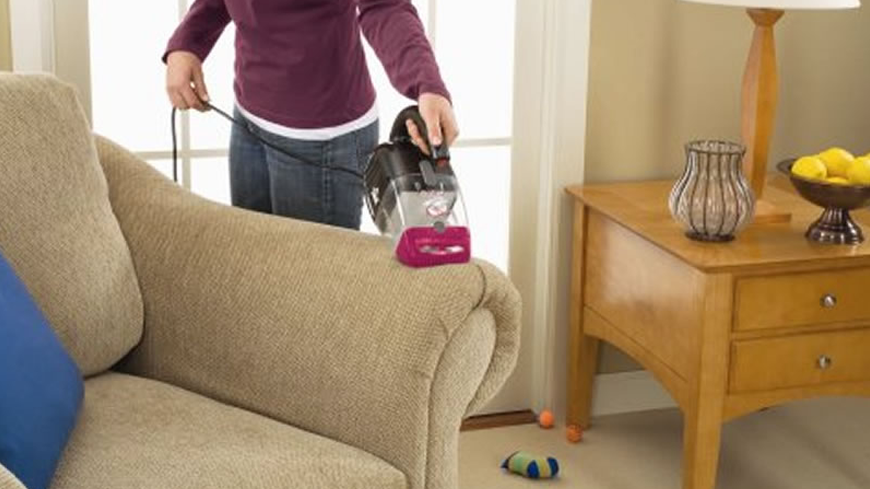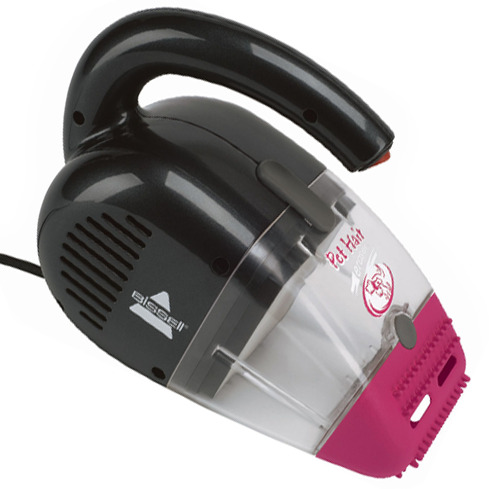 Bissell Pet Hair Eraser
A handheld vacuum, such as the Pet Hair Eraser, is a good choice for those who already have an upright vacuum that doesn't contain pet hair attachments.
The Bissell Pet Hair Eraser is one of the best handheld vacuums for pet owners. It's on Amazon's best selling handheld vacuum list, with nearly all positive reviews. This handheld vacuum is a good option for people who already have an upright vacuum, but one that doesn't contain animal hair attachments.
The Pet Hair Eraser is designed specifically for removing pet hair. The rubber nozzle attracts pet hair without tangling. It's also effective at digging into and removing remove dirt from a variety of surfaces. The vacuum is handy for using on upholstered furniture, stairs, pet bedding, kennels, cat trees and other flea-prone locations that are difficult to clean with a standard vacuum.
The Pet Hair Eraser comes with an alternate hard nozzle. This hard nozzle is well-suited for use inside of vehicles. If infested pets were recently traveling in a car, eggs could have fallen off to develop there. The hard nozzle is also useful for other pet-related purposes, such as cleaning up cat litter or spilled pet food.
Vacuuming Tips for Removing Fleas
Where to Vacuum
Diligently vacuum the entire home, especially when first establishing control. Most of the fleas will be found in carpeted rooms frequently occupied by pets. Hot-spots occur where dogs or cats sleep, groom, and eat. Common hot-spots in bedrooms occur at the side or foot of the bed, and near seating in living rooms.
Remove furniture from problem rooms. If that's not possible, vacuum beneath the furniture. If eggs are dropped near furniture, hatching larvae may seek refuge under the structures. Remove the cushions and pillows from sofas, especially those used by pets. Vacuum the sofa thoroughly, focusing on fabric folds and crevices.
Don't neglect other floor types, such as hardwood, tile, and linoleum. Focus on cracks in these floors, and crevices around baseboards. Also, don't forget rugs, pet bedding, cat trees, and similar items that often exposed to pets.
How Often to Vacuum
Vacuuming is most effective at removing flea eggs. Upon hatching, larvae move deeper in the carpets. Plus, they're bristly and exhibit a coiling behavior when disturbed. As a result, it's much more difficult to remove the larvae. Eggs hatch two days after being laid. Thus, it's best to vacuum at least every other day.
Continue a religious vacuuming routine for at least 8 weeks. Even after proper treatment, fleas will continue emerging from carpets for around 2 months (and up to 6 months).
Vacuuming & Insecticides
Vacuum prior to spraying any insecticide to the carpets. Vacuuming lifts up the carpet fibers so the treatment can penetrate deeper into the matrix.
After using a premise spray on the carpets, don't vacuum until it dries. Some sources recommend waiting a week. Exterminators sometimes recommend waiting even longer. However, studies show that vacuuming treated carpets doesn't significantly impact insecticide activity. Vacuuming may actually be helpful, because it causes cocooned adults to emerge and get exposed to the insecticide.
Vacuuming isn't Enough
While ongoing vacuuming is a crucial part of flea control, it won't end an infestation alone. No vacuum cleaner can remove 100% of fleas from the environment. Plus, the adult fleas living on the host need to be dealt with. Employing an integrated flea control program is the best way to get rid of fleas. It involves treating pets, treating the environment, and doing manual cleaning.
References
1543244
{K6TRN2VC};{I84NQP3E};{FQK2W4P4};{8874KPK9};{MW2ECT2B};{5RFQQ9PG};{X5GS4XW2};{KX76RDQK};{KX76RDQK};{QKN3TTCJ};{AKEK5HAP};{SBSPPUDU};{5B8BMAGU};{K6TRN2VC};{I84NQP3E};{FQK2W4P4};{KX76RDQK};{TFDCWUDV};{8874KPK9};{MW2ECT2B};{5RFQQ9PG};{X5GS4XW2};{KX76RDQK};{MW2ECT2B};{CJ9GF5FC};{XVS82RDK};{JMEG5SGQ};{GANS2RGA};{XVS82RDK};{AKEK5HAP};{MW2ECT2B};{WNBNKAAZ};{SBIEABZF};{XVS82RDK};{SBIEABZF};{QKN3TTCJ};{AKEK5HAP};{6X4W5B97};{KX76RDQK};{EEE9FQRU};{QXCRI3S5};{AKEK5HAP};{KX76RDQK};{AEI5MGU5};{AKEK5HAP};{JTDUEK6Z};{ZIE676VH};{SBSPPUDU};{AEI5MGU5};{T4RZ365D};{MW2ECT2B};{X5GS4XW2};{VJBRJI6M};{7MHNTFFG};{8874KPK9};{NSGAUHZB};{WK2CST5E};{BJC6U5PW};{QKU9JGK8};{3QASNJW9};{TFDCWUDV};{T4RZ365D};{ZIE676VH};{3QASNJW9};{VGAIQM83};{44QVDVF7};{44QVDVF7};{89GMSRUQ};{T4RZ365D};{FQK2W4P4};{QKU9JGK8};{TFDCWUDV};{3QASNJW9};{MW2ECT2B};{89GMSRUQ};{FQK2W4P4};{RCKS2P2F};{T4RZ365D};{MW2ECT2B};{X5GS4XW2};{VGAIQM83};{CAU8CEG2};{4PFF85VS};{7WSXVXGJ};{7MHNTFFG};{6X4W5B97}
nature
default
ASC
no
1044