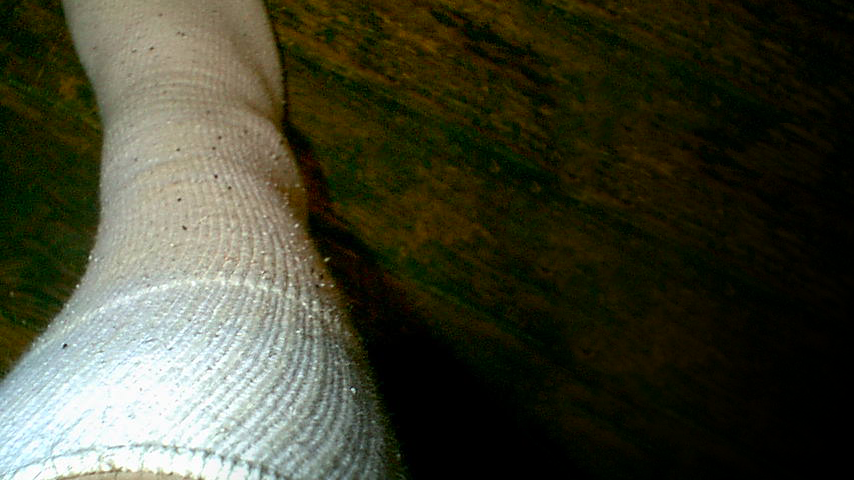 Img 1 Cat fleas will jump onto socks, but they can't bite through the fabric.
Summary
Cat fleas can't bite through clothing. Instead, they'll move beneath clothes to feed on exposed skin. To prevent flea bites, wear socks, long trousers, and closed-toe shoes. Then tuck the pant legs into the socks.
Details
Flea Bites & Clothes
Fabric Types
Generally, fleas can't bite through clothing. Jeans, socks, and even thin fabrics will prevent their bites. However, there are a few exceptions. It's possible for fleas to feed through thin, snug-fitting clothing, such as tights, pantyhose, or yoga pants.
Fleas Feed Beneath Clothing
If fleas don't have immediate access to skin, they'll move underneath clothes to bite. Fleas prefer feeding in covered areas, so they can take a blood meal while remaining unnoticed. If they're disturbed while feeding, or are unable to leave, fleas may hide in the seams of clothing for up to 24 hours and periodically feed.
Clothing Helps Fleas
Although clothing is a barrier to bites, it's actually an aid to fleas. It's easier for fleas to attach onto woven fibers than hairless human skin. Once on a person, they'll find an area of exposed skin to bite, sometimes beneath clothing. There, the fleas are hidden from view and can feed freely. The clothes also wedge feeding fleas against skin, which prevents them from falling.
Where Fleas Bite People
Cat fleas jump an average of 5.2 inches into the air (7.9 inches max) Img 2. This height is well below the knee of a human. Once on a person, they'll bite readily without much movement or wandering. As a result, flea bites usually occur on the feet, ankles, calves, and lower legs.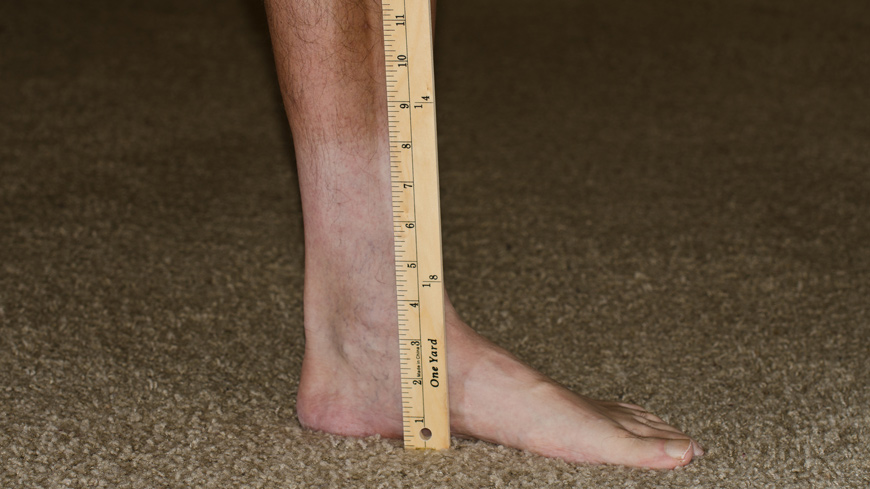 Img 2 At a maximum, cat fleas jump 8 inches high.
Although rare, flea bites can occur higher up on the body. For example, fleas have access to the upper legs, waist and pubic area when a person sits on the ground. Exposed skin around the wrists may also getting bitten. It's highly unlikely for fleas to bite people on the face or scalp.
Best Clothing to Stop Flea Bites
Clothes that block access to skin are the best at preventing flea bites. Wearing socks, long pants and closed-toe shoes will stop many bites. However, a gap of exposed skin often occurs between the socks and trouser cuffs. As with ticks, it's a good idea to tuck the pant's legs into the socks Img 3.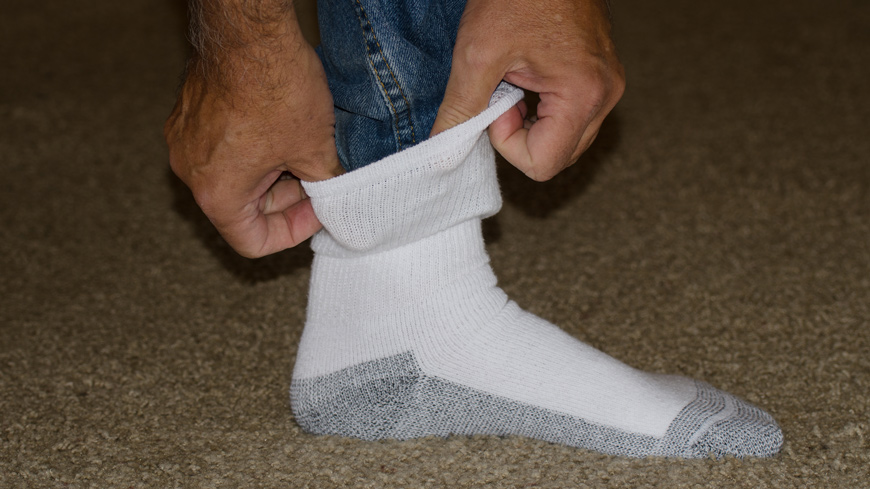 Img 3 Prevent flea bites by tucking pant legs into socks.
Loose-fitting clothing, with tightly woven materials, are best at preventing all types of insect bites, including mosquitoes whose bites are known for penetrating fabrics.
Insect Repellent for Clothes
To stop fleas from landing on clothes altogether, permethrin clothing repellent can be used. Permethrin is an insecticide, but in low concentrations it acts as a broad-spectrum insect repellent. It deters fleas, mosquitoes, ticks, and biting flies. The product binds into clothing fibers, so it's resistant to getting wet, washing, and hard wear. Treated clothing repels insects for up to 6 weeks or 6 launderings (according to product labels).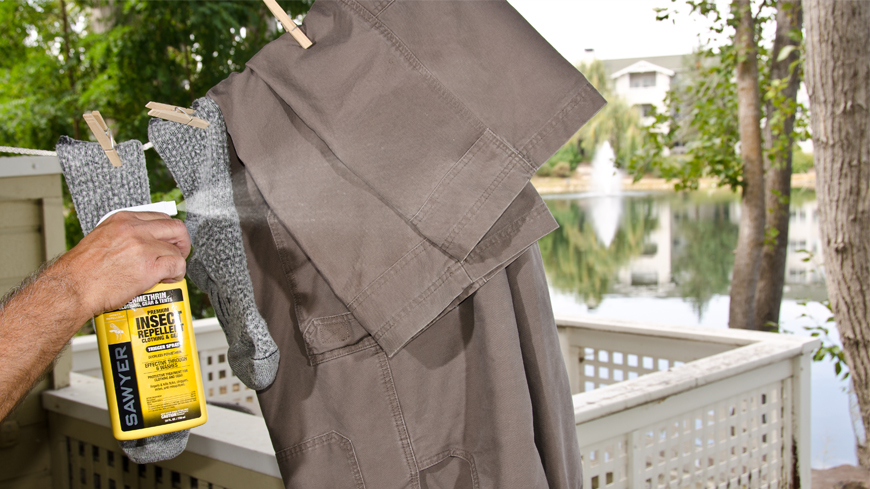 Img 4 Spraying permethrin repellent on socks and pants can stop flea bites.
References
1543244
{FWU8GQJZ};{KCGCTJXV};{R957V74K};{FWU8GQJZ};{FB6R5V6P};{ZM3T44MH};{SEX7ZC75};{FWU8GQJZ};{FWU8GQJZ};{IX8CPVRF};{AZBHUW76};{KCGCTJXV};{FB6R5V6P};{R957V74K};{5HCW7Z6I};{R957V74K};{XXMJXKAV};{Q9R4DCTD};{R957V74K};{FWU8GQJZ};{5HCW7Z6I};{EFWF6MT6};{WJIVEV5E};{FWU8GQJZ};{R957V74K};{IX8CPVRF};{5HCW7Z6I};{JC32XQKH};{FWU8GQJZ};{FB6R5V6P};{FB6R5V6P};{68BPJABW};{ZM3T44MH};{SEX7ZC75}
nature
default
ASC
no
13362