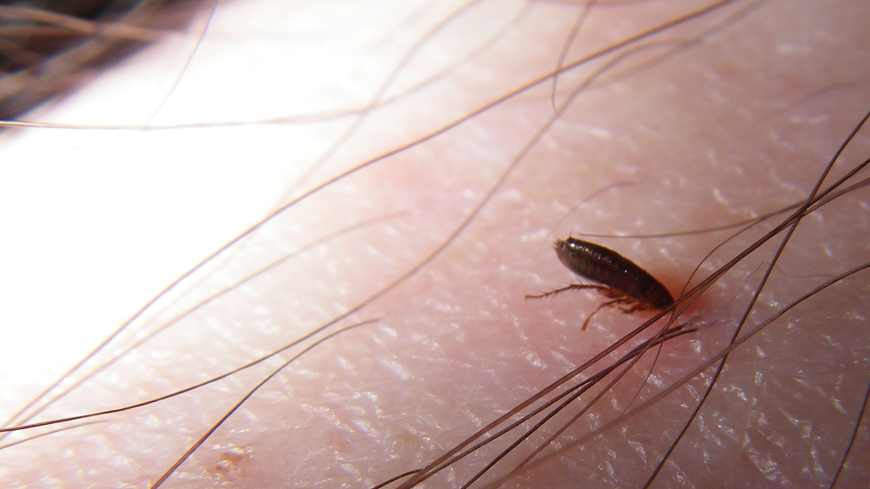 Img 1 Adult cat flea taking a blood meal from a human leg.
Summary
Cat fleas can survive and reproduce on a diet of human blood alone. However, in normal settings they don't live or breed on humans. Females must feed freely for many hours to be able reproduce on humans. This doesn't happen outside of laboratories.
Details
Preferred hosts differ among different species of fleas. Feeding on a non-preferred host can keep fleas alive, but their fertility is greatly reduced. Man isn't a preferred host of C. felis (cat fleas).
Survival
Cat fleas can survive solely on a diet of human blood. They're capable of living for 139 to 185 days if fed on human arms for 15 minutes each day. 10 minute feeding intervals can keep females alive for up to 30 days, and males for 17 days. In a recent study, fleas had continuous access to human blood for 12 days in an artificial setting. A significant number of fleas survived, especially when dog hair was added to their cages.
Reproduction
Fleas can produce eggs on human blood if they're allowed to feed freely. They can't reproduce when the feeding duration is limited to 10 or 15 minutes. Dog fleas, a related species, only produce viable eggs after 12 hours of freely feeding on man. Cat fleas can lay viable eggs after 3 days of free access to human blood through an artificial membrane.
Though it's possible to produce eggs on human blood, the numbers are minimal. Cat fleas lay an average of 3 to 4 eggs a day while consuming human blood. This is a drastic decrease in fertility, as females typically lay 20 to 30 eggs a day.
Fleas & Humans in Natural Settings
In natural settings, cat fleas occasionally bite humans. However, they don't breed on them. The fleas take a blood meal and then leave. On humans, females feed for an average of 7.4 minutes, and males for 4.4 minutes. They often bite 2 to 3 times before leaving. For fleas to survive and reproduce, they must have continual access to blood, and they can't waste their energy by jumping. Feeding for only a few minutes or hours a day isn't sufficient.
Flea bites on humans are incidental, usually only occurring when a flea-infested pet lives in the person's habitat. A flea emerging from its cocoon may bite a person before finding and colonizing its preferred host. But once it's on a cat or dog, the flea remains there.
Fleas are well-adapted for living on furry hosts, not hairless humans. They have a difficult time to attaching to people and remaining undetected. Oftentimes fleas are seen and killed before they can feed.
References
1543244
{5KHVZ72C};{4RW8EAP3};{MCG5VBIQ};{83E4EDT7};{5KHVZ72C};{4RW8EAP3};{68BPJABW};{MCG5VBIQ};{4RW8EAP3};{5KHVZ72C};{MCG5VBIQ};{5KHVZ72C};{4RW8EAP3};{4RW8EAP3};{MCG5VBIQ};{MCG5VBIQ};{83E4EDT7};{MCG5VBIQ};{NSGAUHZB};{WJIVEV5E};{MCG5VBIQ};{MCG5VBIQ};{BJC6U5PW};{5B8BMAGU};{9VG6AN4W};{UBGC7NGU};{R957V74K}
nature
default
ASC
no
10115