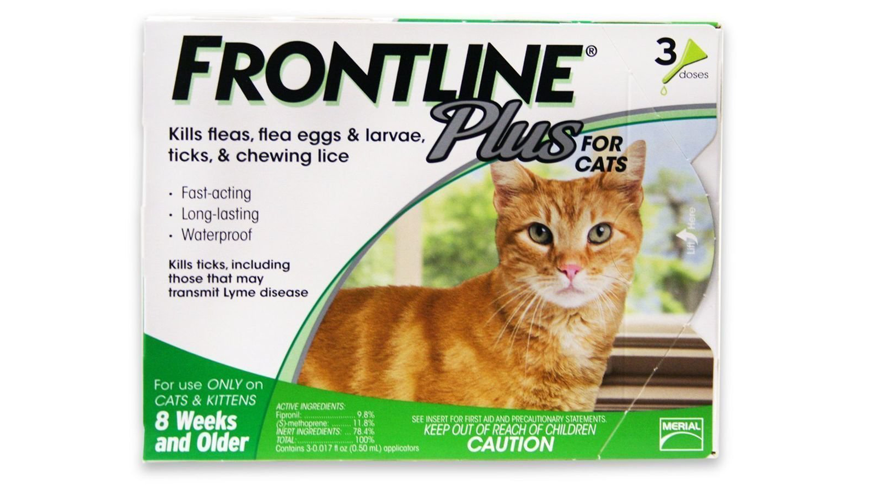 Summary
Frontline Plus for cats is available in one formulation. There aren't different concentrations for different cat weights. The monthly dosage for cats and kittens is 0.50 mL (0.017 fl oz), which is one full tube. View the full product label for application information.
Details
Frontline Plus for Cats
Product Information Chart
Cat Age
8 weeks or older
Cat Weight
over 1.5 pounds
Monthly Dose
0.50 mL (0.016907 fl oz)
Kills
adults, eggs & larvae
Dose Duration
30 days
Ingredients
9.8% fipronil
11.8% (S)-methoprene
78.4% inert ingredients
Product Label
view
MSDS
view
Shop
Amazon
Apply the Correct Dosage
Flea medications can fail if they aren't applied according to the manufacturer's directions. These drops are specifically formulated for cats above a certain age and weight. The full dose needs to be administered or the infestation may continue. Under-dosing occurs if treatments are split between multiple pets. Concerns of toxicity can also lead to owners under-dosing their pets.
References
1543244
{6WCZDJ3I};{RCKS2P2F};{FQK2W4P4};{2EHUIWES};{44QVDVF7}
nature
default
ASC
no
13722