Summary
Adult cat fleas die in temperatures colder than 46.4°F (8°C), and hotter than 95°F (35°C). However, the low-end extreme for immature fleas is 55.4°F (13°C). During winter, adults can survive in cold temperatures while living on a warm-bodied host.

Img 1 Environmental conditions needed for all life stages of the cat flea to survive.
Details
Cat fleas can survive from egg to adult in temperatures between 55.4°F and 95°F (13°C and 35°C) Fig 1.
Cold Temperatures
Low-End Extreme
Adult Fleas
Temperatures below freezing are lethal to adult fleas . They'll die within five days at 30.2°F (-1°C) Fig 2. At 24 hours, there's mortality in 20% of emerged adults and 72% of pre-emerged adults. Fleas can live up to ten days at 37.4°F (3°C). Survival significantly increases when temperatures exceed 46.4°F (8°C), where nearly half of emerged adults stay alive for 20 days.
Fig 2 Percent of emerged adult fleas that survive (y-axis) across 40 days (x-axis).
Immature Fleas
Flea eggs and larvae are more susceptible to cold temperatures than adults. The immature stages require temperatures of at least 55.4°F (13°C). At 50.4°F (10°C), eggs hatch within 12 days, but first instar larvae die 10 days later.
Winter Survival
In the winter, near-freezing temperatures kill fleas living outdoors. While frost kills fleas, not all will die in winter. Some immature stages develop in the freeze-protected dens of wild animals. Adults will survive on their warm-bodied hosts, such as dogs, cats, raccoons, or opossums. And, of course, fleas living within heated homes will survive.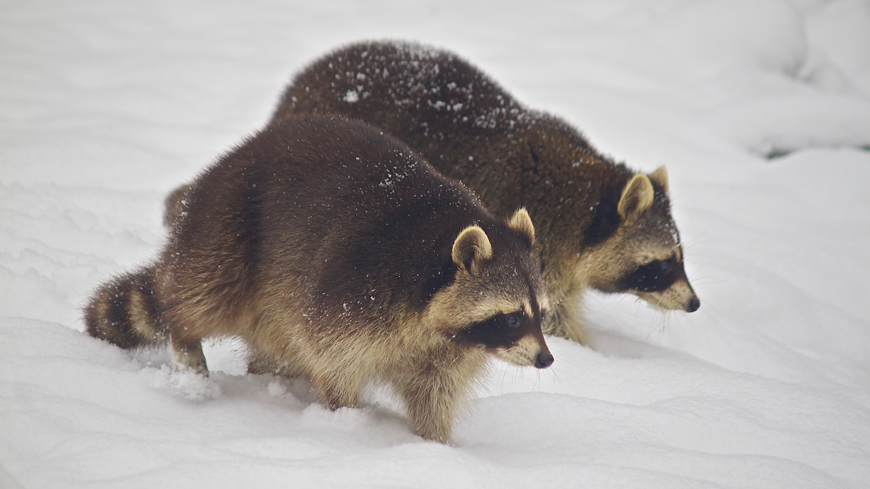 Img 1 Fleas can survive winters indoors, in animal nests, or on warm-bodied hosts (e.g. raccoons).
Some geographic locations year-round warm and humid climates. As a result, fleas can thrive nearly all year long. In Florida, for instance, fleas continue developing even in the winter months from November to March.
Hot Temperatures
High-End Extreme
Adult Fleas
Any temperature above 95°F (35°C) is lethal to adult fleas. They'll die within two days unless relative humidity exceeds 75% Fig 3. Fleas can't survive outdoors when temperatures surpass 95°F for more than 40 hours a month.
Fig 3 Days it takes (y-axis) for 90% of unfed adult fleas to die at various relative humidity percentages (x-axis) while temperature is kept constant at 95°F.
Immature Fleas
Flea larvae also die at 95°F (35°C). They'll live long enough to form cocoons and complete their pupal-imaginal molt, but 100% will die within their cocoon.
Washers and Dryers
Fleas, of any stage, can't survive the laundering process. To kill fleas on clothing and bedding, it's recommended to wash the items for 10 minutes at 140°F, and then dry at the highest heat setting. Multiple factors will prevent survival. They're exposed to extreme heat, extreme dryness, flooding, detergents, and physical tumbling action.
References
1543244
{VWXMZV99};{M92ZDXSZ};{NSGAUHZB};{WK2CST5E};{M92ZDXSZ};{WNBNKAAZ};{5DR78BF7};{I6GICPTK};{VWXMZV99};{M92ZDXSZ};{VWXMZV99};{VWXMZV99};{VWXMZV99};{M92ZDXSZ};{M92ZDXSZ};{5B8BMAGU};{NSGAUHZB};{WK2CST5E};{JC32XQKH};{M92ZDXSZ};{VWXMZV99};{M92ZDXSZ};{M92ZDXSZ};{GEQT5R8R}
nature
default
ASC
no
10078