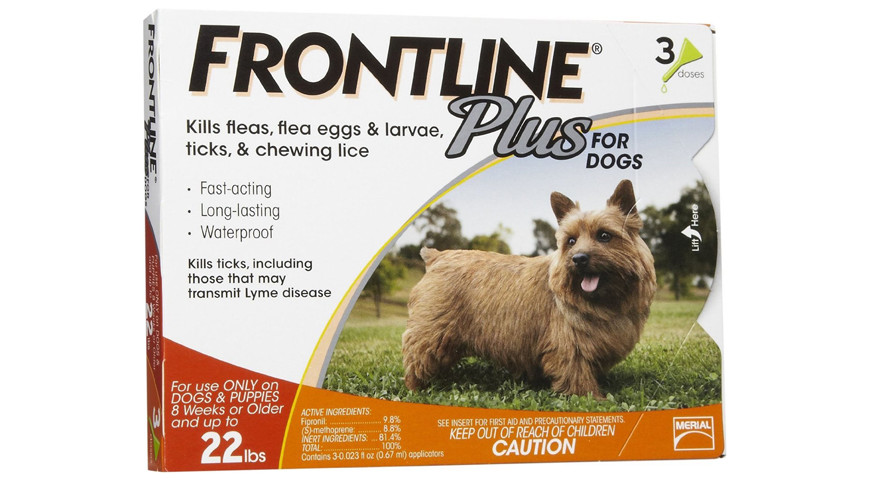 Summary
Frontline Plus for dogs and puppies is available in four products, each corresponding with a specific weight range of dogs. The dosage is higher for heavier dogs. See the dosage by weight chart below. The active ingredient concentration is the same in all four products. View the full product label for application information.
Details
Frontline Plus for Dogs
Dosage by Weight
| | |
| --- | --- |
| Dog Weight | Monthly Dose |
| 5 to 22 lbs | 0.67 mL (0.023 fl oz) |
| 23 to 44 lbs | 1.34 mL (0.045 fl oz) |
| 45 to 88 lbs | 2.68 mL (0.091 fl oz) |
| 89 to 132 lbs | 4.02 mL (0.136 fl oz) |
Frontline Plus for Dogs
Product Information Chart
Dog Age
8 weeks or older
Dog Weight
see chart above
Monthly Dose
see chart above
Kills
adults, eggs & larvae
Dose Duration
30 days
Ingredients
9.8% fipronil
8.8% (S)-methoprene
81.4% inert ingredients
Product Label
view
MSDS
view
Shop
Amazon
Apply the Correct Dosage
Flea medications can fail. The infestation may continue if the manufacturer's instructions aren't adhered to. These drops are precisely formulated and tested for dogs in specific weight ranges. The full correct dose needs to be administered. Pet owners will sometimes under-dose their animals when they're concerned about toxicity or if they're trying to save money by splitting treatments.
References
1543244
{6WCZDJ3I};{RCKS2P2F};{FQK2W4P4};{2EHUIWES};{44QVDVF7}
nature
default
ASC
no
13755